For a last minute gift idea, these cannot be beaten! If you are stuck what to get someone, a hand made stocking stuffed with a  few choccies is absolutely the answer, and will be brought out each year to decorate their tree for ever more.
Because they use such a small amount of fabric these are a wonderful quick, cost effective make. They can be decorated any way you like, personalized and made as big or as small as needed! Delightful!
You will need:
a large sheet of paper or some pattern paper
half a meter/yard of Fabric for the outside of your stocking
half a meter/yard of Fabric for the inside of your stocking
Ribbon, Felt, Bobble Trim, Sequins or anything else you want to decorate your stocking with
20cm Ribbon for the tag
Sewing Machine, Thread, Scissors, Pins
First, use the paper to draw out your stocking pattern (or click the above image to enlarge and print, then use to scale up as you need). Once you are happy, you will need to add on 5cm/2″ to the top- for the turn down- and Seam Allowance around the rest of the Stocking Template. I use just 1cm/ 3/8″ for small projects like this or I find myself using a lot of fabric… which I then end up cutting off so the Stocking turns out properly!
When you are happy with your template you will need to start cutting out your fabric. If you would like to check your Stocking- if you need it to be a particular size for instance- simply make up a sample from some Calico or scrap Fabric.
Fold your Fabric, Right Sides Together, and pin your Template on. Remember if you have a Directional Pattern on your Fabric to Pin the Template the right way up! Folding your Fabric helps you to cut a left and a right side. I have seen too many people cut two lefts or two rights!!
Repeat for the Lining so you have two outside Stocking pieces, and two inside Stocking pieces as above. With Right Sides Together, Pin a Lining piece to an Outside piece as illustrated, then sew using your chosen Seam Allowance.
At this point, if you would like to decorate your Stocking, you need to do it before you start to stitching it up. Remember your Seam Allowance and don't stitch anything too close to the edges! Also, and this is a little odd but I promise it's right!, any decoration sewn on around the top edge of the Stocking which will be seen when the top is turned down needs to be sewn on to the Lining and upside down. This means it will be the right way up when the Stocking is made up and the top is turned down.
When you have sewn both, lie flat and Iron your Seams 'out' as illustrated. Then, with Right Sides Together, pin both Stocking pieces together which should match the two outer pieces and two lining pieces on either side.
Fold the piece of Ribbon in half and Pin. On the Lining side, tuck in as illustrated about 5cm/2″  and -using the same Pin- Pin on the the Stocking. This will mean your Tag is sewn in as you sew the Stocking up which is very neat and tidy!
Starting on the Lining side (and remembering to reverse stich a little to anchor), start to sew just below the Ribbon Tag as shown. Continue to sew all around the Stocking, remembering your Seam Allowance, until you are just above the heel on the Lining side. Stop and reverse stitch to anchor again leaving a gap in the stitching in the Lining to turn the Stocking out.
Clip your threads, then clip all of your curves. This is really important as your Stocking will not turn out nicely!
Turn the Stocking out, then push the Lining in to the outside of the Stocking. You may need a ruler or pencil to help you push the Lining all the way down in to the outside. Turn the top down about 5cm/2″ and stuff full of chocolates, or other goodies and hang up!
As ever it would be lovely to see your makes! Kristen C has been Tweeting me the below from my Jewel Bird Tutorial. Kristen is making them as gifts, aren't they delightful? I adore the blue one, and I am loving all of the different colour choices, which are so different from mine. The White ones have been made as a Gift in traditional Dutch colours for her Grandmother.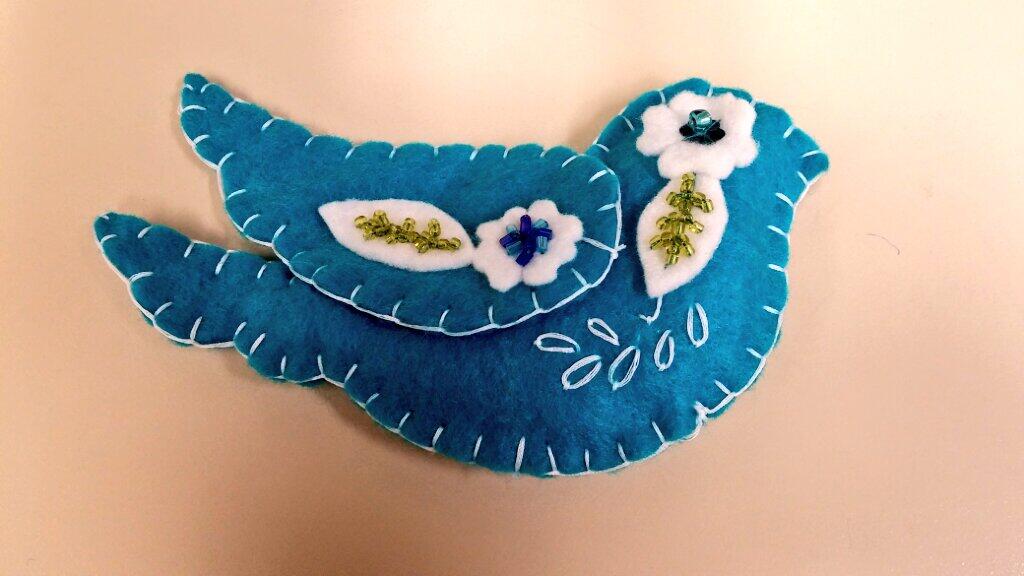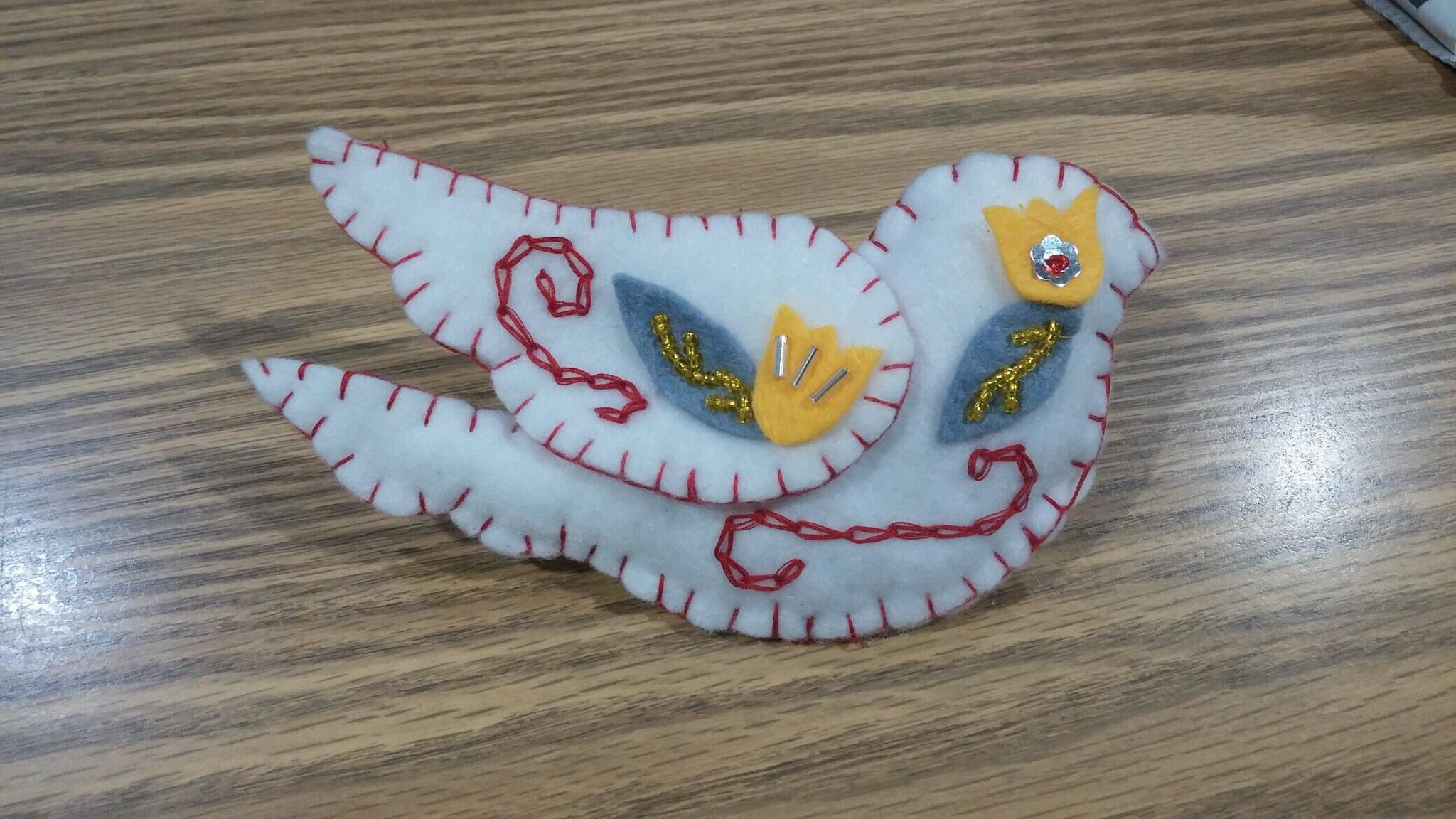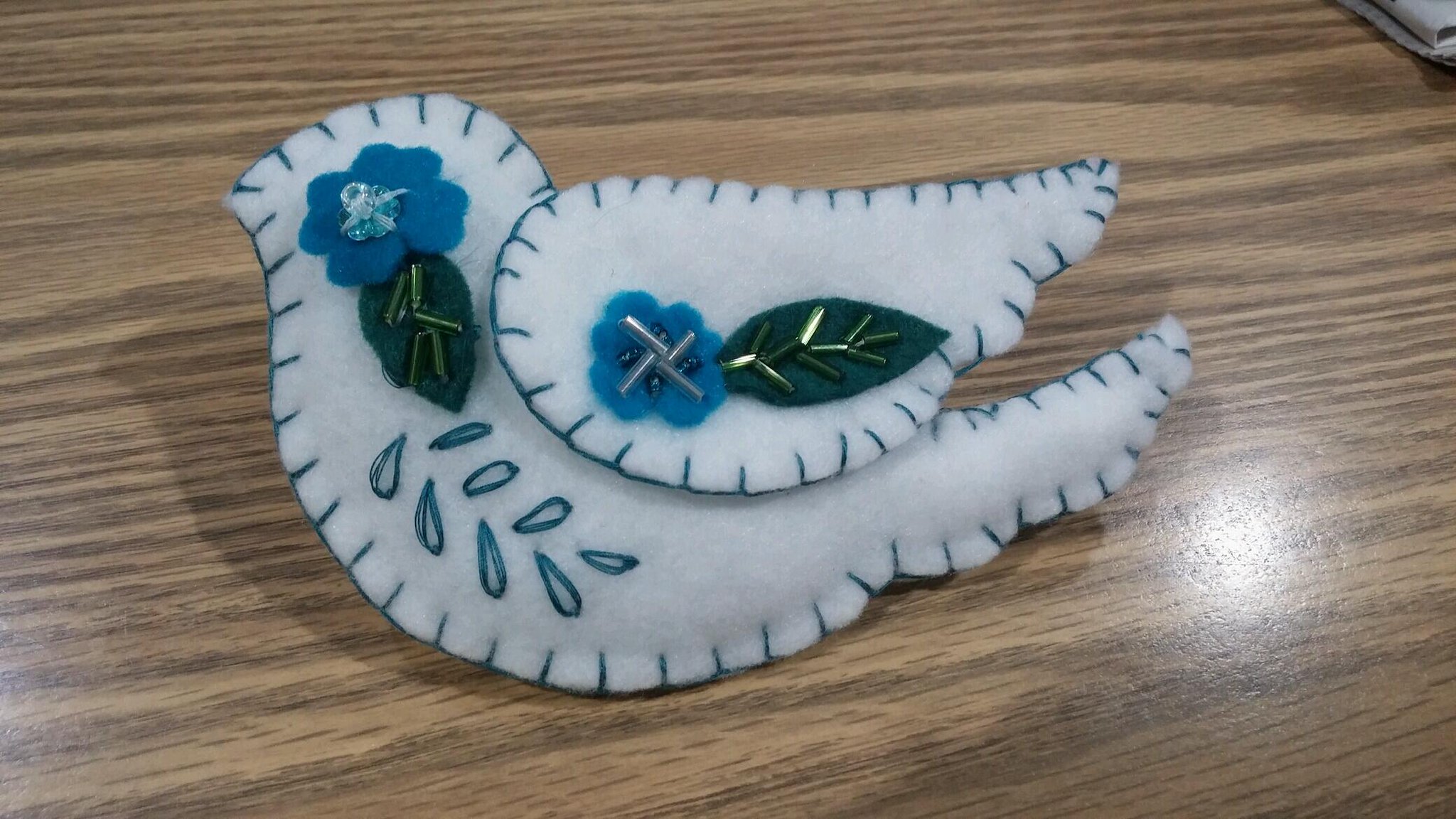 Share your makes via Twitter (@MidnightLaura), on Facebook or here!
Happy stitching!