Hopefully you are well on your way to drafting your first Block and these are a few vital pieces of information it is advisable you note down on each and every Pattern piece. This will help to identify the pattern and assist you if you decide to make it up again.
As a costume designer, I have many patterns which are drafted for one production but which I can use for another, or make slight changes and use for yet another. If I don't write the following on a pattern piece I may as well throw it out!
1. What the Pattern Piece is
Is it the Front Bodice, Side Bodice, Front Skirt? Some of these pieces can look awfully similar when laid side by side and it will be enormously helpful to future you if you label the pieces!
2. Cutting Directions
Simply how many pieces to cut, if they are on the fold and which way the Grainline should lie. If it's a Back piece normally two are cut, if the Front normally one piece is cut but it is placed on the fold. I like to draw in the directions for these too. Click here to buy my Zine Understanding Patterns to see a full run down of Pattern Markings and their uses.
3. Size
Noting the size, and even the Bust/Waist/Hip measurements, is super important. When drafting patterns for yourself you will start to notice how dramatically we all fluctuate in weight, and therefore size. Noting the Size and Measurement on a pattern will enable you to quickly determine if that pattern still fits you, and if not where in the pattern you will need to make allowance to make it fit.
The above illustrates how I would mark my Basic Bodice Block. 
4. Seam Allowance
Basic Blocks are made up with no Seam Allowance, this is put on later on the Working Pattern, and it really is up to you how much Seam Allowance you add in. Sometimes I work too quickly, or know a Working Pattern will need more adjustments so the Seam Allowance never gets put on. Because of this I write on the pattern that there is no Seam Allowance so that if I decide to make it up again in the future I know to add it in… otherwise the final garment will be over a size too small!!
2. Date and Name
This is probably a professional thing however; I like to date and initial all of my pattern pieces. More probably it is a hold over from my degrees- it is amazing the things some students will steal and try to pass of as their own! In this way I mark it as mine, and provisionally copyright it also. The date is often helpful on my personal patterns as anything older than a couple years will need quite a bit of altering!!
3. Name/Who it is for
Name your patterns and therefore your designs! Even if you simply call them 'Basic Shirt from Block' this will help identify all the pieces in a given pattern if jumbled or lost. It will also give you a kick to come up with names for your designs! Recently I decided to hand the honour over to Fella and he came up with 'The Homely Ethel' for a rather nice 60's inspired Wedding Dress pattern and 'Enid's Secret' for a slinky 50's inspired Black Satin and Lace sheath dress. They still make me laugh!! If I am working on a production the name of the Character and Actor will go on the pattern for reference.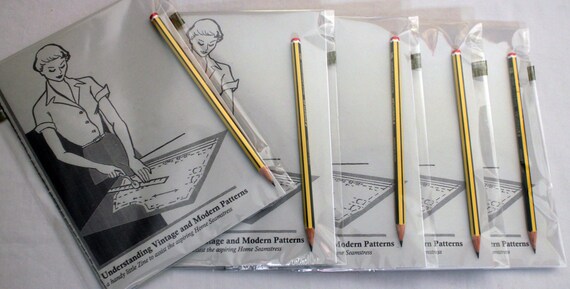 Understand Vintage and Modern Patterns, available now through Laura After Midnight on Etsy. 
Well, my class starts tonight so wish us luck! Oh, and don't forget to share your Pattern successes- and failures!- with us! This is after all Pattern Month, and I would love to hear from all of you. You can even post a picture here and I'll pin it on my Pinterest board here. Remember also to grab yourself a button here, and to keep a beady eye out for my interview with Alexandra of In House Patterns and our Pattern give away on Friday… it's a good'n!!
Happy patterning!